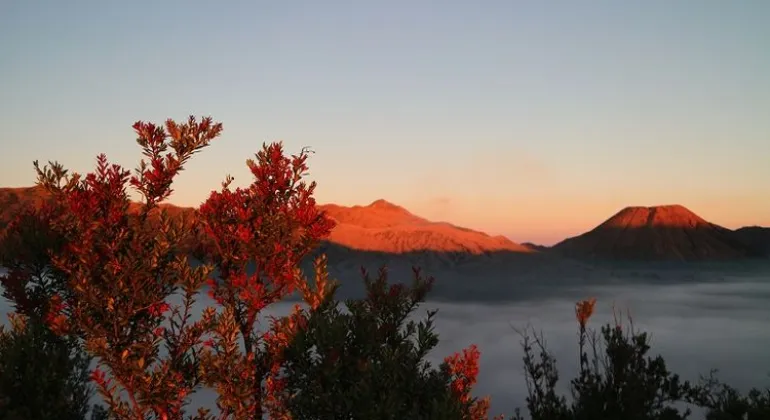 A trip vacation to Java, Indonesia's most populous island, offers a diverse range of experiences, from vibrant cities to ancient temples, stunning landscapes, and cultural heritage. Here's a guide to help you plan your Java trip vacation:

1. Jakarta: Start your journey in the capital city of Jakarta. Explore its bustling streets, visit historical sites like the National Monument (Monas) and Jakarta Old Town (Kota Tua), and indulge in the city's vibrant culinary scene. You can also experience the modern side of Jakarta by visiting shopping malls and entertainment centers.

2. Bandung: Travel to Bandung, known for its cool climate and picturesque landscapes. Explore the city's colonial architecture, visit the famous Gedung Sate building, and shop for fashion and local goods at factory outlets and traditional markets. Don't miss the opportunity to explore the nearby tea plantations and scenic viewpoints like Tangkuban Perahu volcano.

3. Yogyakarta: Yogyakarta, often referred to as Jogja, is a cultural hub with a rich history and traditional arts scene. Visit the magnificent UNESCO World Heritage Sites of Borobudur Temple, the largest Buddhist temple in the world, and Prambanan Temple, a Hindu temple complex. Explore the royal palace (Kraton), watch traditional Javanese performances, and indulge in delicious local cuisine.

4. Mount Bromo: Embark on an adventure to Mount Bromo, an active volcano known for its otherworldly landscapes. Witness the sunrise over the volcanic caldera and enjoy breathtaking views. You can opt for a jeep tour to explore the surrounding area, including the Sea of Sand and the crater.

5. Surabaya: Visit Surabaya, the second-largest city in Indonesia, known for its vibrant business and commercial centers. Explore historical sites like the House of Sampoerna, a cigarette museum, and enjoy shopping and culinary delights in popular areas such as Tunjungan Plaza and Surabaya Night Market.

6. Dieng Plateau: Head to the Dieng Plateau, located in Central Java, known for its unique landscapes and ancient temples. Explore the active volcanic area, visit the colorful Telaga Warna (Colorful Lake), and discover the historical Arjuna Temple complex.

7. Solo (Surakarta): Solo is a cultural city with a strong Javanese heritage. Visit the royal palace of Keraton Surakarta, explore traditional markets like Pasar Klewer, and immerse yourself in Javanese arts and crafts. Solo is also known for its batik industry, so consider visiting a batik workshop to learn about the traditional process.

8. Semarang: Explore Semarang, a coastal city known for its blend of Chinese, Javanese, and Dutch influences. Visit the historic area of Kota Lama (Old Town), stroll along the famous Semarang's Blenduk Church, and enjoy the views from the Sam Poo Kong temple. Don't miss trying the local delicacies, such as Lumpia Semarang (spring rolls) and Wingko Babat (coconut-based snack).

When planning your Java trip vacation, consider the duration of your visit and the distances between destinations. Java has a well-connected transportation network, including flights, trains, and buses, making it convenient to travel between cities.

Pack accordingly for the tropical climate, comfortable shoes for sightseeing, and modest clothing when visiting religious sites. Also, try the local cuisine and be open to trying traditional dishes and street food.

Java offers a combination of cultural experiences, historical landmarks, natural beauty, and culinary delights. Enjoy your Java trip vacation!

Book your custom tour now with Wonderful Indonesia Tours and start experiencing a life-changing journey!