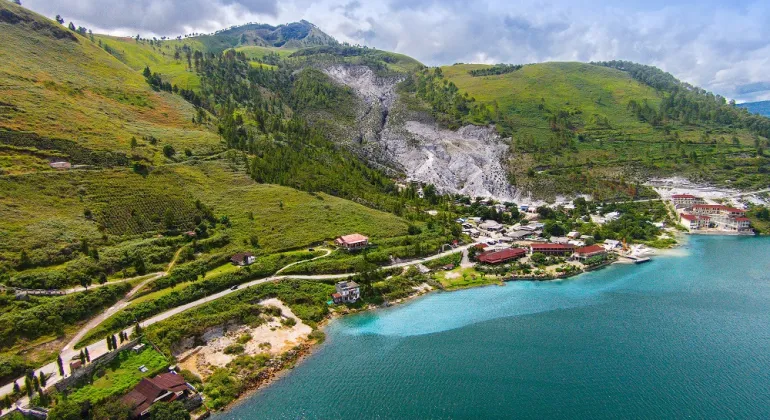 A trip to Sumatra, the sixth-largest island in the world and part of Indonesia, promises a remarkable experience with its diverse landscapes, rich wildlife, and unique cultural heritage. Here's a guide to help you plan your trip to Sumatra:

- Medan: Start your journey in Medan, the capital of North Sumatra. Explore the city's historical landmarks, such as the Maimun Palace and the Great Mosque of Medan. Don't miss the chance to try local delicacies like Nasi Padang, a flavorful rice dish served with various side dishes.

- Lake Toba: From Medan, head to Lake Toba, one of the largest volcanic lakes in the world and a popular tourist destination. Enjoy the serene beauty of the lake, visit Samosir Island located in the middle of the lake, and learn about the local Batak culture. Explore traditional Batak villages and witness cultural performances.

- Bukit Lawang: Journey to Bukit Lawang, a small village on the edge of Gunung Leuser National Park. This park is home to endangered Sumatran orangutans and other wildlife. Take a guided trek through the rainforest to observe orangutans in their natural habitat and enjoy the stunning biodiversity.

- Tangkahan: Visit Tangkahan, a nature reserve located near Gunung Leuser National Park. Engage in eco-friendly activities like elephant bathing and jungle trekking. You can also explore nearby waterfalls and relax in the natural hot springs.

- Berastagi: Explore the highlands of Berastagi, a charming town known for its cool climate and beautiful landscapes. Visit the colorful fruit and flower markets, hike up the Sibayak volcano for panoramic views, and enjoy the fresh produce and local cuisine.

- Kerinci Seblat National Park: If you're an adventure enthusiast and nature lover, make your way to Kerinci Seblat National Park, the largest national park in Sumatra. This park is known for its diverse flora and fauna, including the endangered Sumatran tiger. Trek through the park, climb Mount Kerinci (the highest volcano in Indonesia), and witness the stunning scenery.

- Padang: Travel to Padang, the capital of West Sumatra. Explore the city's cultural attractions, such as the Minangkabau Museum and Siti Nurbaya Bridge. Don't miss the opportunity to try local specialties like Nasi Padang, a variety of dishes served with rice.

- Mentawai Islands: For a unique cultural experience and world-class surfing, consider visiting the Mentawai Islands. These islands are known for their stunning beaches, clear waters, and vibrant coral reefs. Immerse yourself in the indigenous Mentawai culture, witness traditional ceremonies, and enjoy the pristine beaches and excellent surf breaks.

When planning your trip to Sumatra, consider the duration of your visit and the best time to travel, as weather conditions can vary. Sumatra has several airports, making it accessible by air. Public transportation options within the island include buses, taxis, and rental cars.

Pack appropriate clothing for the tropical climate, comfortable shoes for trekking, and mosquito repellent. Respect the local customs and traditions, and be mindful of eco-friendly practices during your visit.

Sumatra offers an incredible mix of natural wonders, wildlife encounters, cultural experiences, and adventure. Enjoy your trip to Sumatra!

Book your custom tour now with Wonderful Indonesia Tours and start experiencing a life-changing journey!