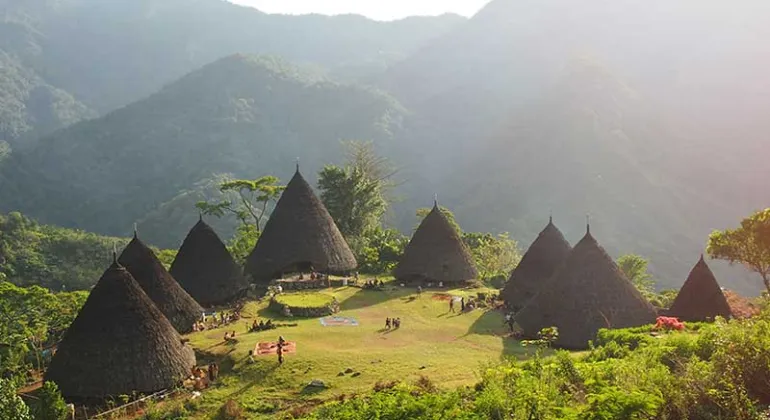 A Flores and Komodo trip vacation is an incredible adventure that combines the beauty of Flores Island and the unique Komodo National Park. Here's a guide to help you plan your trip:

1. Labuan Bajo: Start your journey in Labuan Bajo, a town located on the western tip of Flores Island. It serves as the gateway to the Komodo National Park. You can fly into Labuan Bajo from Bali or other major cities in Indonesia.

2. Komodo National Park: Embark on a multi-day boat tour to explore the Komodo National Park, a UNESCO World Heritage Site. The park is famous for its Komodo dragons, the largest lizards on Earth. You'll have the opportunity to see these incredible creatures up close on Komodo and Rinca Islands. The boat tour will also take you to stunning dive and snorkel sites like Pink Beach, Manta Point, and Kanawa Island.

3. Padar Island: A highlight of the Komodo National Park is Padar Island, known for its iconic viewpoint. Hike up to the top of the island for panoramic views of the surrounding islands and bays. The landscape features unique hills with different colored sands.

4. Rinca Island: Besides Komodo Island, Rinca Island is another great place to see Komodo dragons. Take a guided trek through the island's rugged terrain, accompanied by park rangers who will share fascinating information about the wildlife and flora of the region.

5. Snorkeling and Diving: The waters surrounding the Komodo National Park are teeming with marine life. Dive or snorkel in the crystal-clear waters to explore vibrant coral reefs, encounter colorful fish, and swim with majestic manta rays. Many boat tours include snorkeling and diving activities as part of their itinerary.

6. Flores Island: After your Komodo adventure, take time to explore the scenic beauty of Flores Island itself. Visit the traditional village of Bena, known for its unique stone formations and traditional houses. Discover the three-colored lakes of Kelimutu National Park, where the water changes colors due to mineral content.

7. Wae Rebo Village: Consider adding a visit to Wae Rebo Village, a traditional Manggarai village tucked away in the mountains. It's known for its cone-shaped traditional houses and the warm hospitality of the local community. You can stay overnight in one of the traditional houses for an authentic cultural experience.

8. Ende and Maumere: If time permits, explore the towns of Ende and Maumere, located on the eastern coast of Flores Island. Visit the traditional markets, historical sites, and learn about the local culture and customs.

When planning your trip, consider the duration of your visit and whether you prefer to join a guided tour or organize the trip independently. There are various tour operators and travel agencies that offer packages for Flores and Komodo trips, including transportation, accommodation, meals, and activities.

Ensure you pack essentials like comfortable clothing, sunscreen, insect repellent, and snorkeling gear. Don't forget to bring a camera to capture the stunning landscapes and unique wildlife encounters.

A Flores and Komodo trip vacation promises an unforgettable experience, combining adventure, natural beauty, and cultural immersion. Enjoy your journey!

Book your custom tour now with Wonderful Indonesia Tours and start experiencing a life-changing journey!