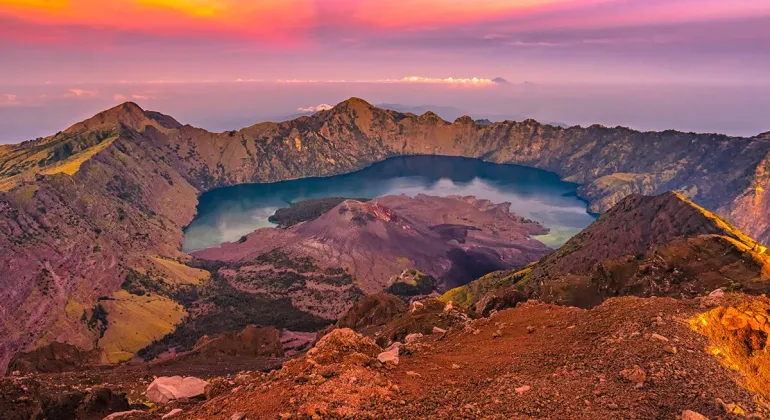 Traveling to Lombok, an island in Indonesia, offers a perfect blend of stunning beaches, vibrant culture, and natural beauty. Here's a guide to help you plan your trip to Lombok:

1. Senggigi: Start your journey in Senggigi, a popular beach resort area located on the west coast of Lombok. Enjoy the beautiful beaches, indulge in water sports activities, and explore local markets for souvenirs and traditional crafts. Senggigi also serves as a convenient base for exploring other attractions on the island.

2. Gili Islands: Take a short boat ride from Lombok to the nearby Gili Islands, consisting of three small islands: Gili Trawangan, Gili Air, and Gili Meno. Each island has its unique charm and character. Experience the laid-back island vibes, relax on pristine beaches, snorkel or dive in crystal-clear waters, and enjoy the vibrant nightlife.

3. Mount Rinjani: If you're up for an adventure, consider trekking Mount Rinjani, the second-highest volcano in Indonesia. The trek offers stunning views, including a beautiful crater lake called Segara Anak. It's advisable to join a guided tour as the trek can be challenging and requires proper planning and permits.

4. Kuta Lombok: Visit Kuta, located on the south coast of Lombok, known for its incredible beaches and surf breaks. Spend your days sunbathing, swimming, or surfing at famous beaches like Selong Belanak, Mawun, or Tanjung Aan. Kuta is also a gateway to exploring the breathtaking landscapes of southern Lombok.

5. Sasak Culture: Immerse yourself in the rich Sasak culture by visiting traditional Sasak villages. Experience their traditional way of life, witness handwoven textile production, and learn about their unique customs and rituals. Sade and Rambitan are two popular Sasak villages worth visiting.

6. Sendang Gile and Tiu Kelep Waterfalls: Explore the beauty of Sendang Gile and Tiu Kelep Waterfalls, located in Senaru village near Mount Rinjani. Enjoy a refreshing swim under the cascading waterfalls and take in the lush surroundings. The waterfalls are easily accessible, making them a popular attraction for nature lovers.

7. Pink Beach: Discover the Pink Beach (Tangsi Beach) located on the southeastern coast of Lombok. The beach gets its name from its unique pink sand, created by a mixture of white sand and crushed red coral. Relax, swim, snorkel, or simply marvel at the stunning scenery.

8. Local Cuisine: Don't miss the chance to taste Lombok's delicious local cuisine. Try traditional dishes like Ayam Taliwang (grilled chicken), Plecing Kangkung (water spinach salad), and Sate Rembiga (beef skewers with spicy sauce). Seafood lovers can enjoy fresh catches from local markets or beachside restaurants.

When planning your trip to Lombok, consider the best time to visit, as weather conditions and tourist crowds can vary. Lombok has its airport, Lombok International Airport (LOP), which offers domestic and international flights. Public transportation options on the island include taxis, rented motorbikes, or private drivers.

Pack appropriate clothing for the tropical climate, swimwear, sunscreen, and mosquito repellent. Respect the local customs and traditions, and always practice responsible tourism.

Lombok offers a unique and enchanting experience, with its beautiful beaches, cultural heritage, and outdoor adventures. Enjoy your trip to Lombok!

Book your custom tour now with Wonderful Indonesia Tours and start experiencing a life-changing journey!